Dubai, United Arab Emirates, 17 January 2019: The Access Bank UK was conferred the prestigious title of Best African Trade Finance Bank for its exceptional efforts in facilitating trade ties with the African continent at the sixth edition of the International Finance Awards. Held at the Jumeirah Emirates Towers in Dubai, on January 17 th , the event was attended by a number of C-level executives and senior management representatives from various industries.
The award recognises The Access Bank UK's central location and its compelling ability to assist investors and customers looking to invest or develop trade links from Asia through the Middle East to Sub- Saharan Africa. Furthermore, The Access Bank UK positively contributes to the economic growth and global trade through its wide range of services and innovative solutions in trade finance, commercial banking and asset management.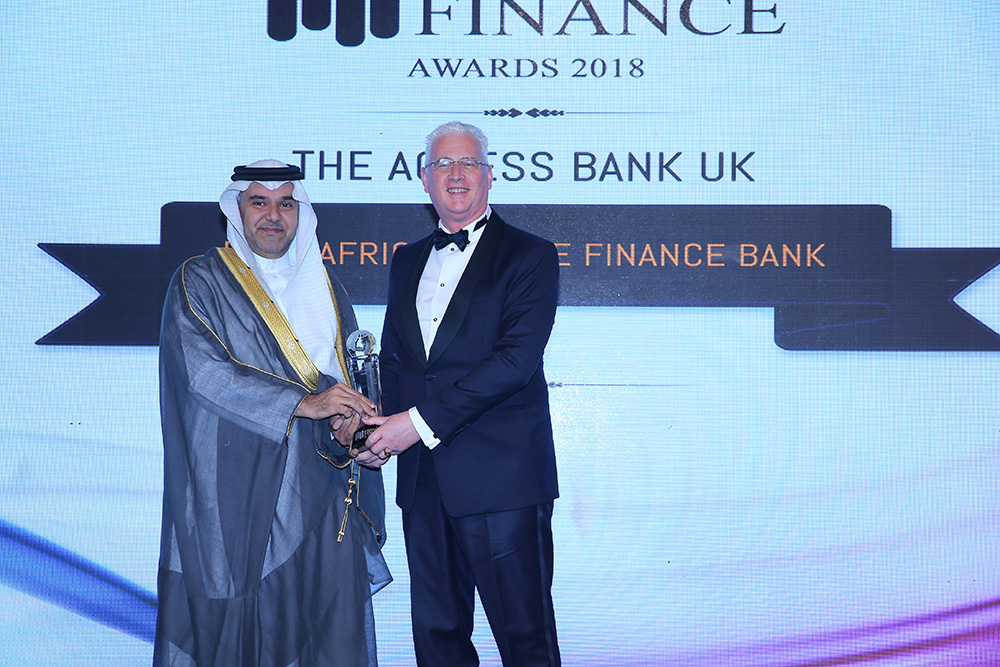 The award was received by Jamie Simmonds, Chief Executive Officer and Managing Director at The Access Bank UK and Rola Seifeddine, Senior Executive Officer/ Head of DIFC Branch. Speaking at the award ceremony, Jamie Simmonds, Chief Executive Officer and Managing Director at The Access Bank UK said: "Winning an internationally renowned award recognising exceptional contributions in trade finance is an honour that we – at The Access Bank UK- take particular pride in."
"Our commitment to forging trade finance routes among Nigeria, Sub-Saharan and West Africa and the MENA region has been the key driver for our operations. We strongly believe in the potential of these regions as they are expected to become home to six of the ten fastest-growing economies in the world this year."
The award celebrates exceptional individuals and institutions who have exhibited unparalleled contributions in their respective domains that generated international resonance. The winners are selected by a qualified research team that identifies unique accomplishments.
Commenting on the recognition, Rola Seifeddine, Senior Executive Officer and Head of The Access Bank UK DIFC Branch, said: "The award is a testament of our pivotal role in bridging the gap between the two regions. Thanks to our strategic location in one of the major trade finance hubs in the world, we were able to support and advise business traders on the numerous opportunities lying on the other side of the Arabian Peninsula, as well as the potential that the Sub-Saharan economies hold."
The Access Bank UK's CEO Jamie Simmonds won the CEO Award 2018 from Finance Monthly, a global financial magazine, and for three consecutive years 2016, 2017 and 2018, The Access Bank UK has won the Capital Finance International Award for Best Africa Trade Finance Bank positioning it as an industry leader.