We are once again delighted to announce that we have been awarded Best Africa Trade Finance Bank for the second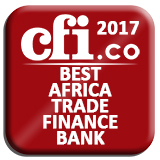 consecutive year by CFI.co, an award which is voted for by CFI readers, subscribers and contributors.
The Access Bank UK is honoured to be a part of an award programme which aims to recognise and reward organisations that contribute significantly to global progress. The Judges panel commented that, 'The Bank is recognised for its extensive knowledge of the Sub-Saharan business environment and is able to offer specialised technical support and guidance to importers and exporters at both ends of trade corridors. Its relationship-based model ensures short lines of communication with customers and allows the bank to quickly respond to market dynamics.
The Access Bank UK was the first Nigerian bank to be appointed London correspondent to the Central Bank of Nigeria. The Bank has sustained high growth rates whilst adhering to solid fundamentals'.
CFI.co continued to comment 'the judges feel confident that The Access Bank UK merits recognition as winner of the 2017 Best Africa Trade Finance Bank Award'.
The Access Bank UK Limited is a wholly-owned subsidiary of Access Bank Plc, a Nigerian Stock Exchange listed company. The Bank offers a range of services including trade finance, treasury services, business and personal banking together with private banking and wealth management. The Access Bank (UK) Limited is accredited by the IFC (World Bank Commercial Arm) and acts as OECD trade finance hub for the Access Bank Group.